About Us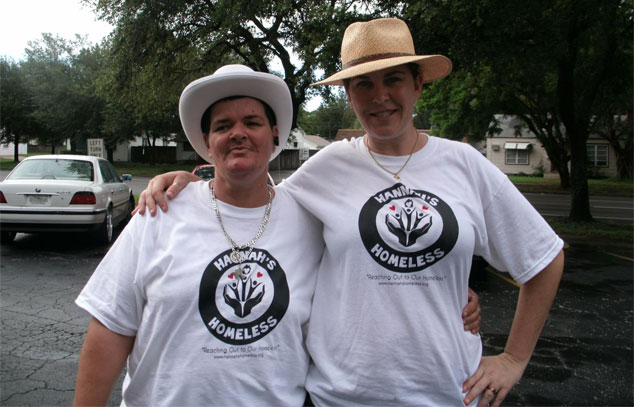 Hannah's Homeless is a not for profit organization registered in the state of Florida and based in St. Petersburg. We are a collective group of folks who work hard to provide support and services to help our local community. It's our goal to give back to our community and have the resources available to the people in our city who are today struggling with homelessness and/or addiction or mental health issues. Many of today's homeless deal with all of the above mentioned ailments and many are veterans of recent and current wars.
It's an honor to be able to help those less fortunate and we feel that it's our duty to try to be available for these folks. Gratitude is best expressed through action and we're counting on that being a contagious thing!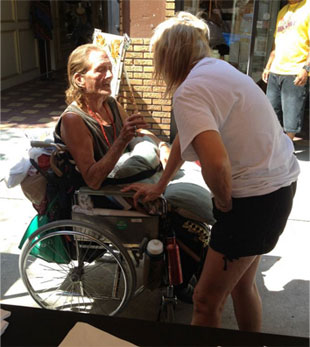 We have a goal to open up a drop-in center in downtown St. Petersburg by the end of 2014. The drop-in center will be a place for folks to come and get a meal, clean clothes, take a shower, use the phone, see a counselor, and use our resources to help with finding jobs, places to live, etc. This is a BIG goal and will take hard work, dedication, and a whole lot of help from folks like you! If you're interested in helping in ANY way at all, please fell free to email via the Contact Us link or call 727-564-3195. We'd love to hear from you.
If you'd like to contribute please donate please click here which utilizes PayPal, a safe and secure way to donate online. We also accept donations of gently used clothing, blankets, new and unopened toiletries, and canned goods or other non-perrishable food items. Please email us to make arrangements. We will pick up donations if need be.
Donate
Hannah's Homeless focuses on helping our local homeless population. We provide for homeless people in and around downtown St. Pete., Florida by passing out food, clothing, blankets and needed hygiene items. Our goal is two-fold: First, we provide immediately needed items, working towards building trusted relationships within the community. Second, we work with a core list of local resources to assist people with finding solutions that are more long term. People need to feel safe when they come to us to get information about local shelters, job fairs, detox centers and other sources of help…when they're ready. Our Board members have all known, either first hand or from loved ones, the struggle of homelessness and/or addiction. It is a labor of love calling us to be of service, and our long term goal is to secure a building downtown to be a drop-in center and a safe place to come eat, clean up, find clean clothes, use a phone, get info and ask for help.
The goal of this project is to get off the ground with a strong start for the winter season, with needed a storage unit and food!
We need to obtain a climate controlled storage unit to keep donation items (clothes, blankets, toiletries and non-perishable food items) organized and stored safely
We are planning for our big Christmas run to provide as much food, hygiene items, blankets and clothes as we can to offer critical comfort and safety items during a time of year that can be hard for so many
Last year at Christmas we went out and saw more needy women and children than we had seen all of the previous years put together! It made us sad that we had no toys to offer. It was some comfort to know that 1 woman who had 4 boys was able get jackets and burgers for each of them. The boys were so excited! We gave that mom the biggest care package we could and believe that it made the holiday just a little easier.
We are looking forward to having another year of providing at least that same little gift to as many individuals and families as we can find and feed! We really hope that this year we will have enough to even share the left over items with some of the amazing local shelters!
By donating to this campaign, you will enable all of our goals to become reality.
Thank you so much for being part of this heartfelt mission.
Contact & Payment Info (Hannah's Homeless)
Click the Donate button below and it will lead you to a secure PayPal transaction site.
Thank you again and please remember this information below will help us follow up with you in order to update you on your donation's progress to this cause...